We provide Chemist, Chiropodist, Optician, Doctor, Dentist, Hairdresser, Laundry and Banking Services here.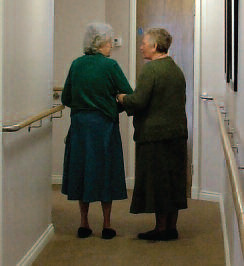 CHEMIST visits daily and supplies all requirements
CHIROPODIST visits regularly
OPTICIAN visits can be arranged when required
DOCTORS & DENTISTS - You can use your own Doctor and Dentist if they are willing to come here. If you are from outside this area we can arrange a local GP and Dentist for you. When consulting you will normally be accompanied by a member of staff. Medicines which you bring with you should be given to the Manager on arrival here. They will be recorded and dispensed at the appropriate time.
HAIRDRESSING - A hairdresser visits weekly for both men and women but if you prefer your own to visit here that's fine. Hairdryers and curling tongs are available for your use at any time.
LAUNDRY is done daily and all your clothes should be marked with your name. We are extremely careful but no responsibility can be taken for items accidently damaged or lost
MONEY AND VALUABLES can be looked after in our safe
NEWSPAPERS are delivered daily morning and evening.
TELEPHONES a private line in your room is charged directly by BT
SMOKING is only allowed in designated areas but we can accommodate individual arrangements.

CATERING
BREAKFAST 8am-9.30am
TEA or COFFEE 10.20am
LUNCH 12-1.15pm
TEA or COFFEE 2.30pm
EVENING MEAL 4.30-5.30pm
EVENING DRINK 7.30pm
SUPPER from 9.00pm

Meals can be served either in the Dining Room or in your own room. We have a varied menu and new suggestions are welcomed.
24 hour service is available for drinks, biscuits or snacks or just a chat with our caring staff. Most special dietary requirements can be accommodated.